Curismed integrates your scheduling, billing, and reporting so that you save your precious time and help your bottom line.
This is how it works: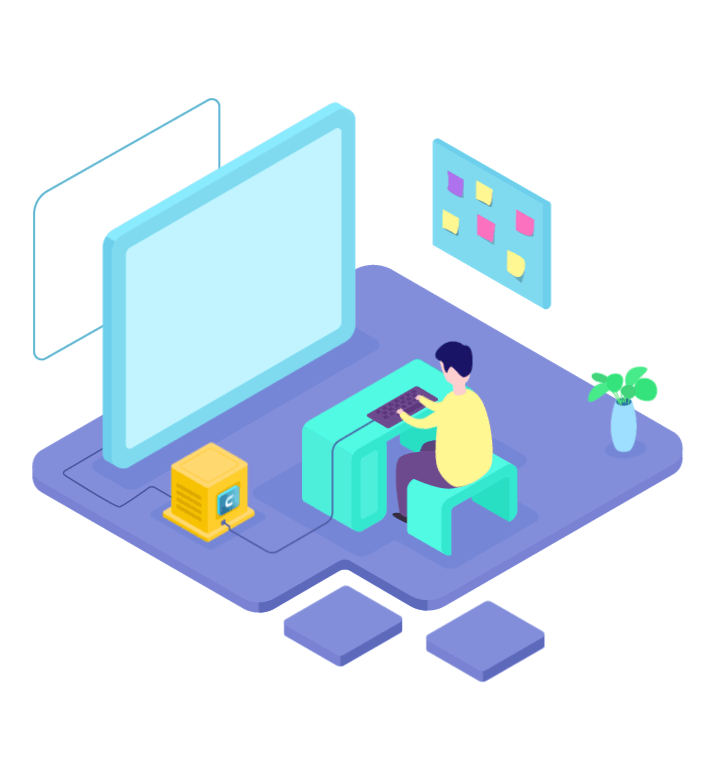 The Ultimate Therapy Scheduler for ABA Providers – Access your Schedules Anywhere Anytime!
Are you tired of keeping track of your authorization units and integrating it into your schedule? Do you wish to reduce the no-shows and appointment conflicts while saving your time? If yes, then you have landed the perfect ABA management software Curismed. Its scheduling features of organizes your appointments while you can access it from anywhere, anytime
Say Goodbye to No-shows and Save your Time
The scheduler allows you to schedule your staff in a few clicks. You can also give them permission from settings to add their own schedule, add notes, and electronically sign it in a matter of minutes. Moreover, the automatic reminder system sends reminder texts, emails, and phone calls automatically to available employees and therapists to inform them about any upcoming schedules sessions and cases. Consequently, you don't have to call each of your employees to schedule their sessions, saving your time and reducing no-shows.
You can also customize the types of your appointments using tags to make it easier for your staff. No need to hassle over CPT codes anymore. Create all the appointment based on CPT codes of your staff so that everyone can manage the schedule effortlessly. Customize and set a colour for every appointment or a tag for every staff member and search the schedule easily. So, schedule your meetings with one or several therapists/patients without the fear of conflicts, rates, as well as CPT codes.
Let Curismed auto manage your clinic
Managing a clinic is tough in the modern era so you cannot stick with the old way of managing it. Our software integrates different modules to auto manage your clinic. As described above with so many appointments on your list, you can miss a few, but our software ensures to give you a reminder so that you are on time to take care of your patients. Not only this, the built-in functionality allows you to auto manage a single clinic, even multiple clinics with ease as the auto management feature works so well to manage schedules, billings, claims, documentation etc. with efficiency. This feature helps therapists to reduce the human effort that is required to run a professional clinic as it eases every step that a professional takes during the course of its service. With all the tasks being managed automatically and with just a few clicks, it releases stress from the minds of therapists and allows them to focus on their real task, that is, their patients. When you know that everything is being managed by your brilliant software, you are relaxed and enlightened. This also allows you to build a better bond with your patients, and you can give more attention to your work details. The software aligns every clinical activity and manages every data and document in just a few clicks that make it really easy for you to run your clinic in an efficient way. To know more about our software and its brilliant features, you need to contact us so that you can also avail our service to make your professional career a bit easy
Let Curismed take care of your finances.
The software features a billing option that ensures that you just need to focus on your patients. It automatically takes care of your bills, claims and outstanding payments in just one click. This feature helps you to keep a check on your finances as you won't miss on any of the bill or claim.
Auto-generation of invoices
You or your staff have rendered medical services as per the appointed schedules; then your job is done. The software has all its features integrated so well that after an appointment session is complete, the bill is automatically generated. You do not need to do any paperwork. It is just a matter of one click and invoices are generated. You can generate invoices on a daily basis, weekly or monthly as per your ease. You can customize the payments as per the convenience and agreement that suits you and your patients. The sole purpose of our software is to make everyone's life easy.
The software keeps track of payments. It ensures that you are paid timely. If any of the payment is missed, it creates an alarm so that you can have your payment cleared before scheduling up the next session. This not provides you with the ease to get your fees on time but also helps you to pay your staff their salary on time so that you and your team work together without any conflicts. When you have your finances settled, you perform better at work. So, keep yourself focus on your patients as Curismed is here to look after your payments.
Accessing reports was never that easy
The software also features an amazing reporting system that allows you to create templates for different reports. You can create templates for reporting the medical condition of your patients, different test reports, payrolls, appointment schedule report and many others. With the readily available templates in this software, generating these reports has become very easy and less time taking
Easy Retrieval and less errors
Preparing reports by hands were never easy, and there were always chances of human error. With the automatic reporting system, human efficiency has increased with less errors on reports. The reports are saved in the software, and you can easily retrieve these reports. With this software, you can have the medical history and the financial history of each of your patient managed by the software. With a single click, you can reach out to the complete detail of the patient. Managing a patient's history was never that easy before.
It helps you to manage your business better and saves you money
With reports being managed by software, you do not need to waste paper. All the data is saved within the system, and less human effort is needed to put in to manage the data. It also helps you to manage your business well as you can easily save reports in the system of as many patients as you want. Moreover, the different templates and ledgers help you to manage all the documentation well with the retrieval at a single click. Not only this, these reports can be shared with others at the time of need or can be sent to any corner of the world by just a single click.
A good payroll system means happy employees.
The Curismed has another worth considering feature, and that is the payroll option. The payroll module is integrated with schedule, billing and other related modules to ensure that the employees working under you are paid on time.
Customization makes it easy to operate
Our team can customize the payroll system as per your requirements. You can track every employee's data and can set the payment on the basis of days of work, or on an hourly basis or the criteria that suits you and your employees the best. You would have access to all the data related to payroll at any time. You can also give each employee its login to access their profiles 24*7 to see the numbers of working hours, overtime hours, pending allowed holidays, missed appointments etc.
An efficient payroll has many benefits
When the payroll system is automated and well managed, it boosts the morale of employees. A transparent system that shows compensations, medical benefits etc. keeps its employees trust to build on the employer and motivates them to work harder. It allows employees and employer to keep track of their performance. In short, the payroll feature eases the life of the employer. It allows you to keep track of payments, reduces the human effort of manual entries and saves a lot of time.
Well managed documentation-easy business life
Lots of appointments of therapy sessions, billings, payments, etc. means a lot of documents. But document management is fun when you do it with Curismed. Our document management feature makes it easy for you to handle hundreds of documents with ease. Not only it increases the security of documents, but also it eliminates the hassle of keeping a lot of papers in a file. You have every data in the software in its set template format. You can retrieve it on a single click. Each document is saved and secured.
Integrated documentation helps therapists to focus on their profession in a better way. The therapist can share the needed information with each other by uploading a document in any format that helps all professional to connect with each other quickly and in a better way. This saves their time and helps them build a better network of knowledge and data.
Audits-no need to fear as you are ready with the documents
This is one of the biggest favours that this software feature does to the business. With every schedule, invoice, payment, claim, and insurance data stored in the curismed, you are always ready to face the auditors that audit your system once or twice a year. Previously when such soft wares did not exist, it was very hard to manage all documents and to retrieve them on time during audits. But the soft wares have changed the scenarios and has helped professionals to run their businesses ethically.
Keeps you connected with your world 24×7
With the feature of mobile application, curismed is accessible via your phone. This keeps the therapist and the patients connected to each other at all time. This is one of the best features that this software offers. Since the software has all the data related to clinical sessions, patients reports, schedules, payments and claims, it makes it very easy for the professional to do their tasks in a better way. They not only have access to the software while being present in the office, but if they are on duty outside the clinic, they can easily connect with any information through the application on their phone. This software also allows the therapists to save the information or any important data into the software via their phones that allows every bit of information to be in the software memory. Moreover, this software operates on a HIPPA compliant server that provides security to your data. With all the exciting features, our software Curismed is ready to serve you. So do not wait and contact us to register yourself.
Curismed is hosted on one of the most secure and HIPAA compliant servers available on the market featuring WAF protection, log retention, encryption, BAA, log monitoring, host instrusion detection, Managed Firewall with Unified Threat Management, IP reputation, and vulnerability scans. We have a "security first" approach at all times to ensure we are 100% compliant.
Curismed's own HIPAA-compliant messaging application that will allow you and your staff to communicate and connect in real-time to gather input and make decisions efficiently. Utilize this secure chat capability to communicate with one or several colleagues. Plus, you can continuously use Curismed and not have to open another application for chat.